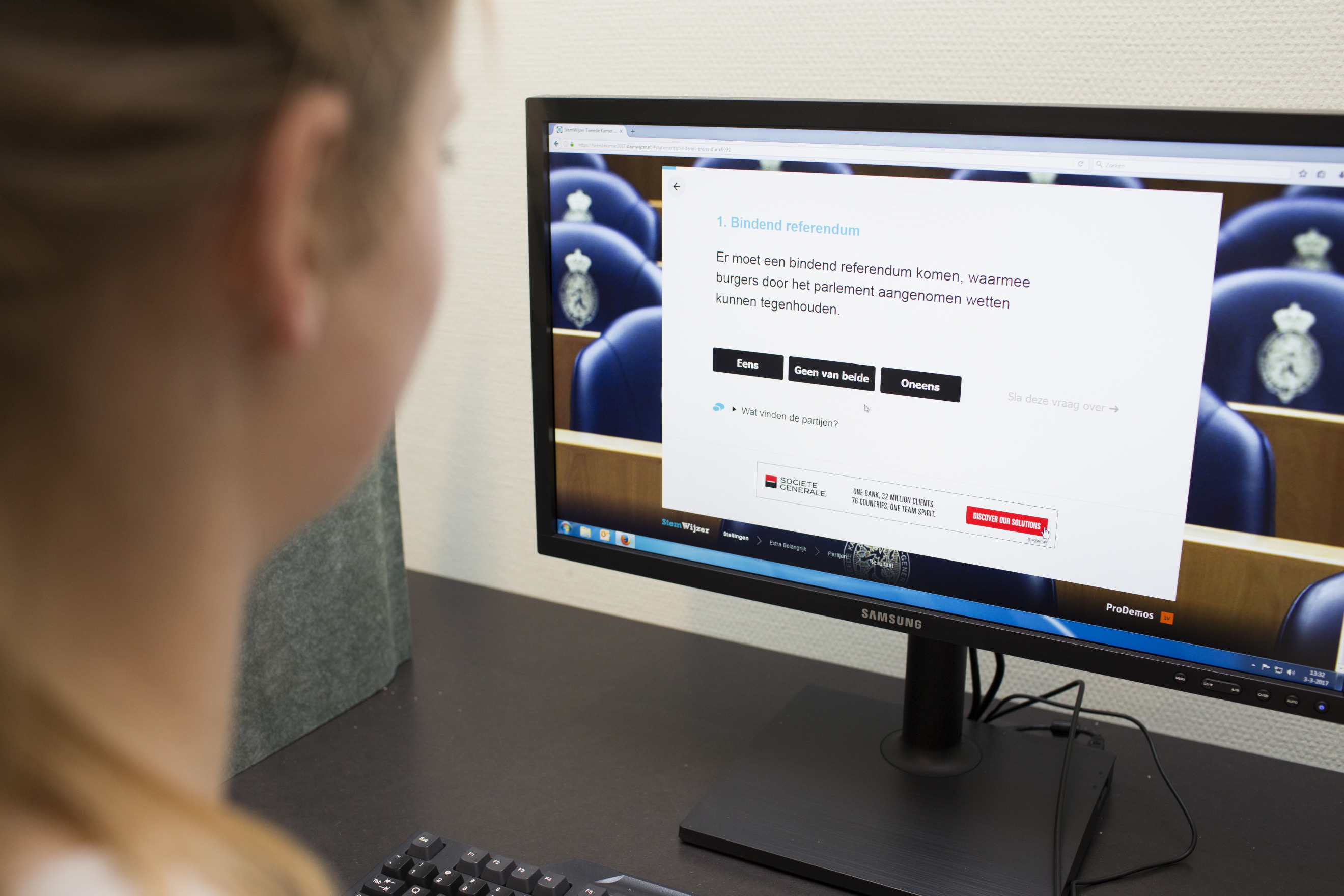 One of our most successful products in the Netherlands is VoteMatch (in Dutch: StemWijzer), a voting aid application (VAA).
VoteMatch was first developed in 1989 as a test on paper to help voters learn more about the positions of political parties and the relevant issues of an election. Later it was further developed as a digital tool, used by millions of Dutch voters to help them decide which political party matches best their own viewpoints.
Users enter their opinions in response to some thirty propositions, and the programme subsequently calculates which parties most closely match their points of view. Thus, VoteMatch is a strong tool to learn more about political parties' stances on a wide range of issues. This is important, as lack of such knowledge is often a reason not to vote.
A VoteMatch for every election
ProDemos produces a VoteMatch at its own initiative in the run-up to the Dutch and European parliamentary elections. Those attract millions of users, 7.8 million for the 2021 national elections, close to 60% of the whole electorate. But ProDemos also developes 'local' VoteMatches on behalf of municipal and provincial governments.
In other countries
ProDemos has contributed to the development of VoteMatches at international level as well. Find more information about our current offer for international VoteMatches (pdf).
This is an overview of some of our activities:
ProDemos worked together with the Bundeszentrale für politische Bildung (BpB) on the development of the Wahl-O-Mat, the German version of the StemWijzer in 2002.
During the 2007 French presidential and parliamentary elections, a voting aid was put online that was based on the technology and methodology of the Dutch StemWijzer programme. This voting aid could be found at www.monvoteamoi.fr.
ProDemos supported the development of the Izboromat voting aid for elections in Boznia-Herzegovina in 2015-2016.
In 2019, we supported Vice Media and Pacifista! Colombia with the development of VoteMatches for regional elections. The VoteMatches were available in three districts.
ProDemos has also developed StemWijzers for local, regional or national elections in Aruba, Bolivia, Bulgaria, Chile, Ecuador, Georgia, Ghana, Hungary, Japan, Libya, Mexico, Mongolia, Morocco, Myanmar, Peru, Suriname, Switzerland, Tunisia, Turkey, Ukraine, the UK and the US.
European cooperation
Since 2009, ProDemos has cooperated with partners to develop VoteMatches for the European Parliament elections. That cooperation has led to a number of improvements and innovations.
European Parliament: In 2009, ProDemos made a special 'pan-European' StemWijzer. The advice on how to vote directed the user to one of the European parties or groups. Furthermore, national versions of VoteMatch were produced for twelve of the EU Member States.
For the 2014 and 2019 European Parliament elections, ProDemos collaborated with a large number of organisations to create a VoteMatch that was partially filled with different questions for each country and partially with similar questions for every country. This allowed users to see what parties in other countries best matched their preferences. A similar project is under way for the European Parliament elections in 2024.
Cooperation between ProDemos, BpB, TreeCompany in Belgium and Alltinget in Denmark has led to cooperative development of tools such as YoungVoice, a voting aid for young people, and a party comparison tool.