Voting rights for non-Dutch nationals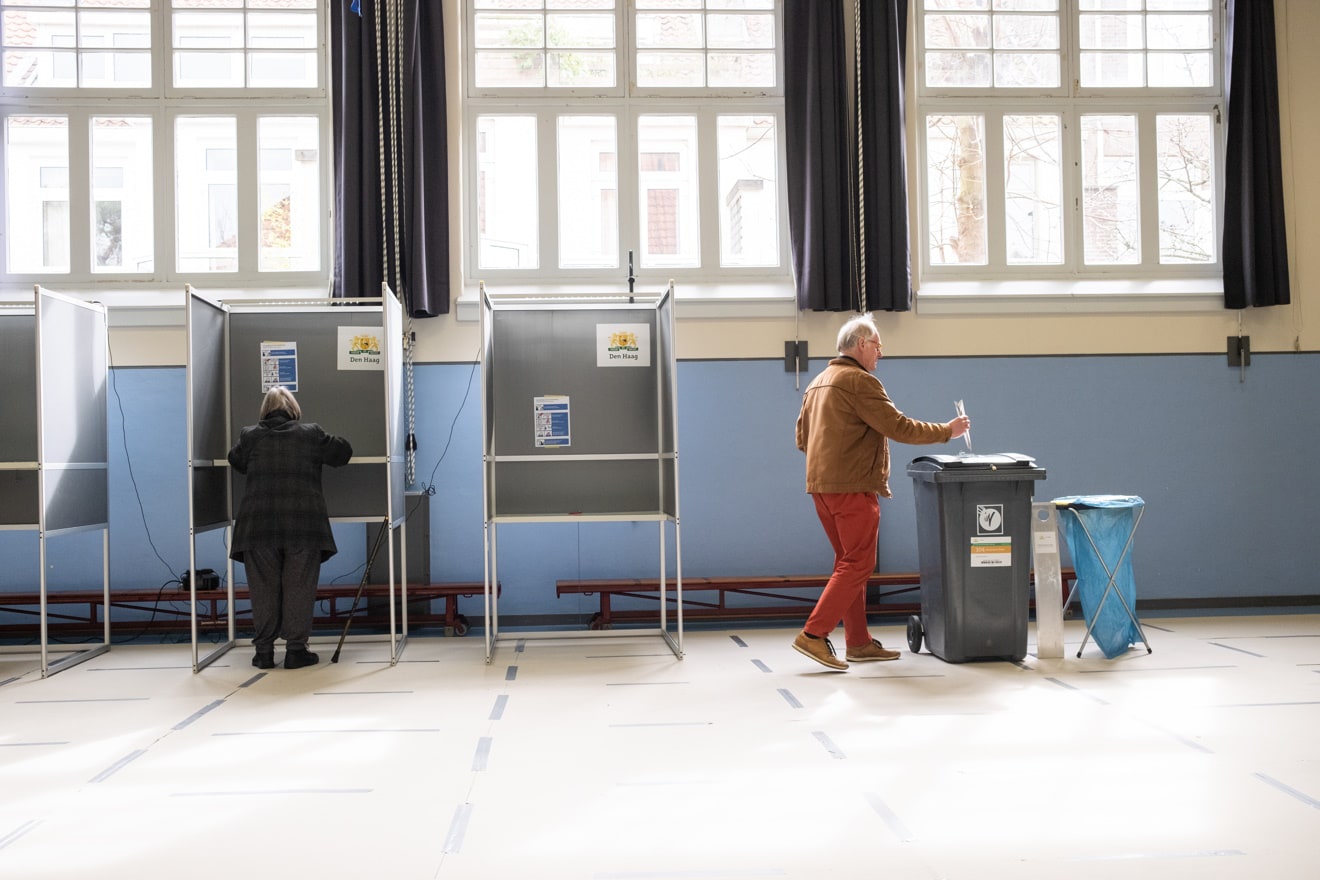 Jump to…
Who can vote?
All Dutch nationals aged 18 and over can vote in elections for the European Parliament, the Dutch House of Representatives, the Provincial Council, municipal councils and district water boards.
Voting rights for non-Dutch nationals:
Non-Dutch nationals who are of age (18 or over) and who have been living in the Netherlands for at least 5 years (with a residence permit) are allowed to vote in municipal elections.
Citizens of European Union (EU) member states can vote in municipal council and European Parliament elections immediately upon moving to the Netherlands. For the EP election, EU-citizens residing in the Netherlands have to register at their local municipality with the so-called Y-32 form.
In addition to Dutch nationals, all non-Dutch nationals legally residing in the Netherlands may also vote in district Water Board elections.
Anybody with the right to vote can (in principle) also be elected themselves.
For example: non-Dutch nationals who have been legally residing in the Netherlands for at least five years can be elected as municipal council members, and EU citizens can nominate themselves as candidates for the municipal council and the European Parliament.
NB: If you are excluded from voting in your home country or in the Netherlands, you cannot participate in the elections. And it is forbidden to vote two times, so if you register in the Netherlands, you can't vote for your own country.
How do you know if you can vote, and what do you need to do?
If you choose to vote in the election of Dutch members of the European Parliament elections, you'll have to register at the local municipality  with the so-called Y-32 form.
At least 14 days before an election, you will receive a personal voting pass in the mail. Take this pass and valid proof of ID to any polling station within your municipality to vote.
Your voting pass and ID will allow you to vote in any polling station in your municipality on the day of the election. Your pass proves to the polling station that you have not yet voted at any other polling station, as it has authenticity features and a unique number. A passport or driver's license counts as valid proof of ID, and may be expired for up to 5 years.
Your voting pass
If you have not received your voting pass, or if you have lost it, you can request a new one from your municipal offices either in person or by post.
To request a new pass in person, do so by noon on the day before the election. Written replacement requests must arrive at the municipal offices by no later than 5 days before the election.
Voting by proxy
If you are unable to vote yourself because you are ill or away, you can authorise another person to vote on your behalf (by proxy) using either the back of your voting pass, or a separate authorisation form.
You can only use your voting pass to authorise other residents of the same municipality to vote. To do so, fill in the back of the voting pass, and both you and the authorised person must sign it. You must also give them a copy of your ID, which they must present at the polling station along with their own proof of ID. Authorised persons must also show their own proof of ID, and can only vote on behalf of others while casting their own vote.
If you wish to authorise a resident of a different municipality to vote for you, you must submit a written request for a proxy vote. These forms are available from the municipal offices.
You and your chosen authorised representative must both sign the form, and the representative will receive a certificate of authorisation to vote for you.
The form must be submitted no later than 5 days before the election.
Proof of ID
Together with your voting pass, you need to show proof of ID at the polling station. A passport or driver's license counts as valid proof of ID, and may be expired for up to 5 years. Voters with dual citizenship may also use a passport, ID card or driver's licence from another EEA country (all EU countries plus Liechtenstein, Norway and Iceland). A Swiss passport or ID card is also valid.
If your ID is lost or stolen: make a police report and bring a copy of it to the polling station, along with any pass showing your name and photograph (e.g. a personal public transport card or hospital ID).
A declaration of lost ID from your municipality will also allow you to vote, and must also be presented with a pass showing your name and photo.
Voting in a different municipality
If you would like to vote in a municipality other than where you live, you must apply for a voters card. This will allow you to vote at any polling station in the Netherlands (including Bonaire, Sint Eustatius and Saba). Apply for a voters card in writing by submitting an application form to your municipal offices (where the forms are also available). Written voters card applications must arrive no later than 5 working days before the day of the election. Voters card applications in person must be made by noon on the day before the election. To do so, take your voting pass to the Civil Affairs Department at your local municipal offices.
Voting from abroad
If you are temporarily abroad for work, study or holiday and are still registered in a Dutch municipality (including the special municipalities of Bonaire, Sint Eustatius or Saba), you can still vote, but only for elections of the House of Representatives and the European Parliament.
There are two ways to do so: by authorising someone to vote for you (see above), or by international post. To vote by post, you must submit a form (M3) with a registration request to the mayor of The Hague. Six months before the elections, this form will be made temporarily available on the municipality of The Hague's website, see here: Dutch voters abroad or here: Voting form abroad.
Casting your vote
The closest polling station to you will be listed on your voting pass. All voters will also be sent a list of other polling station addresses within the same municipality, including which ones have wheelchair access.
On the day of the election, all polling stations are open from 7:30 am to 9:00 pm.
In many municipalities, polling stations are set up in community spaces, such as stations or shopping centres. The opening times of these stations may differ from the standard times. Some open earlier (often ones on busy locations with lots of commuters, like train stations), none will remain open after 9:00 pm. For more information, please contact your municipal offices.
At the polling station, you will hand in your voting pass and show your ID, and receive a ballot paper from one of the volunteer staff. Take it into a voting booth, and use a red pencil to choose your candidate by marking or colouring in the box beside their name. Once you have made your choice, fold up your paper to conceal your vote, and put it in the ballot box.
Voting is anonymous, so the booths at the polling station should be arranged so that nobody can see you who vote for. Anybody with a physical impairment is allowed an assistant in the voting booth.
Blank votes
If you do not wish to choose a candidate but still want to exercise your right to vote, you can submit a blank vote. To do so, go to the polling station but do not choose a candidate – leave the ballot paper blank.
Blank votes have only symbolic meaning, and do not influence the allocation of seats. The same applies if you do not vote, so blank votes and unused votes do not go towards the biggest party. Blank votes do count towards election attendance, however.
Mistakes on the ballot paper
Marking several boxes or writing/drawing on the form will make your vote invalid. If you accidentally invalidate your vote or make a mistake, you can ask the volunteer staff at the polling station for a new form (only one replacement form per person is allowed).
Information in English
More election information in English is available here:
More information
Your municipal offices can provide you with more details about elections. The exact desk varies between municipalities, it is sometimes called the 'city desk' (stadsloket) or the 'municipal desk' (gemeenteloket). Contact information is available on the municipal website.